Protection for auctioneer businesses against the unexpected.
Auctioneer insurance built to safeguard your business.
We design insurance policies specific to each auctioneer's business. We can calculate how much and what type of coverage to offer and how much it will cost. It's our way of helping you—the auctioneer.
Video Testimonial on Auctioneer Insurance
Thank you to Kurt Johnson from Kurt Johnson Auctioneering Inc. for the enthusiastic video testimonial on our services and the importance of auctioneer insurance!
E. R. Munro and Company can design and underwrite an insurance program specific to each auctioneer's business. Your business may need:
Liability Insurance
The basic building block of an auctioneer's protection plan is liability insurance. Liability insurance protects your assets should you be held responsible for accidents and/or damage that occur during your auction. The cost is based on an auctioneer's annual payroll.
Property Insurance
We can provide coverage for your office or business to include:
Furniture
Sound Systems
Signs
Tents
Software
Computers
Telephone Systems
Copiers
Theft, Burglary, and Robbery
Protection at the Cost to Replace
We can protect the building or buildings you own with property insurance. Protection will be for the cost to rebuild with the same like, kind, and quality of materials and workmanship. $500, $1,000, and $2,500 deductibles are available. Vandalism, fire, lightning, windstorm, and many more hazards are covered.
Click it. Read it. Cover it.
Click on the hotspots.

Discover your risks.

Get the right coverage.
General Liability
Risk Factor
In the unfortunate event that someone slips and falls while at your auction, you may be held liable for injuries that result.
Solution
Your Auctioneer General Liability includes coverage to respond to incidents where injuries to others occur or there is damaged property where you may be held at fault.
Errors and Omissions
Risk Factor
You hold an absolute auction to sell off the assets of an estate, including the personal property as well as the home. After the sale is complete, the seller alleges you did not sell the property for what it is worth and sues you for $25,000.
Solution
The Errors and Omissions Policy will not only pay to defend you but if it is determined you sold the property below its value, it may pay the difference in the hammer price and the price the seller expected.
Property
Risk Factor
You own an auction house where you have monthly auctions. A strong windstorm hits the building, causing damage to the roof and windows. You cannot hold an auction until the damages are repaired.
Solution
The Business Owners Policy can include property coverage to replace or repair damages to your building at replacement cost. The policy can pay for damage caused by wind, fire, vandalism, water damage, and more.
Business Personal Property
Risk Factor
Items and equipment you own to conduct your auction business can be at risk of fire, theft, or water damage. Computers, laptops, printers, and office furniture can be damaged as well.
Solution
A Business Owners Policy covers your business personal property that is owned by you and used to conduct your auctions. Our policy includes replacement cost coverage so that you receive the full cost to replace whatever item is damaged, stolen, or destroyed.
Secondary Warehouse or Storage Unit
Risk Factor
Owning or leasing a secondary location has the potential of increasing your liability exposure.
Solution
Be certain that you tell your insurance advisor to extend liability coverage to the other locations.
Umbrella or Excess Liability
Risk Factor
You are holding an on-site auction and set up a tent for the comfort of the audience. A strong windstorm blows your tent down, causing injuries to several participants. They hire an attorney and file a lawsuit against you or your auction business.
Solution
An Umbrella or Excess Liability Policy increases your liability limits by adding protection above your current liability policy, providing real financial protection, as well as priceless peace of mind.
Cyber
Risk Factor
Many auctioneers use their cell phones, laptops, and other electronic devices to communicate with customers, advertise auctions, and conduct online auctions. What happens if you are hacked, personal records are compromised, or your system is held for ransomware?
Solution
A Cyber Policy protects businesses against online crimes and the losses relating to damage or loss of information from IT systems and networks. This includes ransomware or phishing attacks that can happen to anyone.
Workers' Compensation
Risk Factor
You hold a weekly auction with the help of your spouse, kids, family, and friends. To avoid taxes and putting everyone on payroll, you pay them with cash. As your cousin was moving a large vase, she injured her back. She went to the hospital and now needs six weeks of rehabilitation and treatment. Since she was injured at your auction while working for you, she looks to you to cover her medical expenses.
Solution
Most states require businesses to provide Workers' Compensation insurance when you have people helping or working at your auction. Workers' Compensation pays their medical bills, lost wages, and the cost of rehabilitation.
Consignment Coverage
Risk Factor
Many auctioneers take the seller's property to storage or other locations to prepare for an auction. While in storage, lightning strikes the building and causes a fire. The fire damages the consigned items and now the owners want the auctioneer to pay for it.
Solution
Property of others in your care, custody, or control can be insured by the purchase of a Consignment Coverage policy. Limits of insurance begin at $100,000 with a $1,000 deductible and is limited to "Objects of art, rarity or historical merit of every nature and description." Premiums start at $1,000 per year.
Automobile
Risk Factor
If you own a vehicle in the name of your auction business and get involved in an at-fault auto accident, your auction business may be held responsible for damages to the other vehicle and injuries that occur.
Solution
A Business Auto Policy will protect your auction business from claims or legal action against you.
Business Interruption
Risk Factor
When there is substantial damage to the location where you hold your auction due to unexpected events such as fire, lightning, or tornado, you may not be able to use your facility until it can be repaired or rebuilt - potentially incurring additional business expenses for renting a new location, creating new advertising signs, and setting up a new office.
Solution
Our Business Owners Policy provides coverage for the additional cost you incur to stay in business.
Trailer
Risk Factor
Many auctioneers use a trailer in their auction business to clean out a home or business. The concern is whether there is coverage for the trailer if it is used for business use. What coverage is provided when you detach the trailer and leave it overnight at the estate auction premises?
Solution
An Inland Marine Policy or listing the trailer on your Business Auto Policy may offer you the protection you need to cover the trailer and its liability.
Personal Injury and Defamation
Risk Factor
Using social media and other sites can increase the possibility of you directly or indirectly damaging someone's reputation and exposing you to a lawsuit.
Solution
Your Auctioneer Liability or Business Owners Policy includes liability coverage for personal injury or defamation.
Workers' Compensation Insurance
This coverage is required in most states when you have people helping you at an auction, even if they are volunteering their time. It pays their medical bills if they are injured while helping at an auction. In severe cases, it will pay their lost wages when they cannot return to work.
We normally do not provide workers' compensation insurance unless you have it now and have had it for at least the past three years without interruption. If you have never had workers' compensation insurance, we can "steer" you to your "state fund" which will work directly with you to obtain the workers' compensation insurance you are required to have by state law.
Errors and Omissions (E&O) Insurance
This coverage protects you financially if you must make up for a shortfall in sales to your client due to an error or omission on your part. Some sellers demand this policy in their contracts with auctioneers.
Consignment Insurance
Consignment insurance covers the loss or damage to your client's items that are left in your possession to be sold at a consignment sale or an auction.
Are you still in need of your auctioneer bond?
In order to secure an auctioneers' license, the bond must be filed with the state before an individual can begin the process of becoming an auctioneer. Visit our auctioneer bonds page to view our rates and terms offered in your state.
Why choose E. R. Munro and Company?
E. R. Munro and Company is a proud member of the National Auctioneers Association, Indiana Auctioneers Association, Michigan State Auctioneers Association, Ohio Auctioneers Association, Pennsylvania Auctioneers Association, and the West Virginia Auctioneers Association.
Auctioneer Insurance Questionnaire
Please download the auctioneer insurance questionnaire and return your completed application to [email protected].
Download Questionnaire
For answers to questions on your particular auctioneer insurance needs, contact Greg Magnus at [email protected] or at extension 157.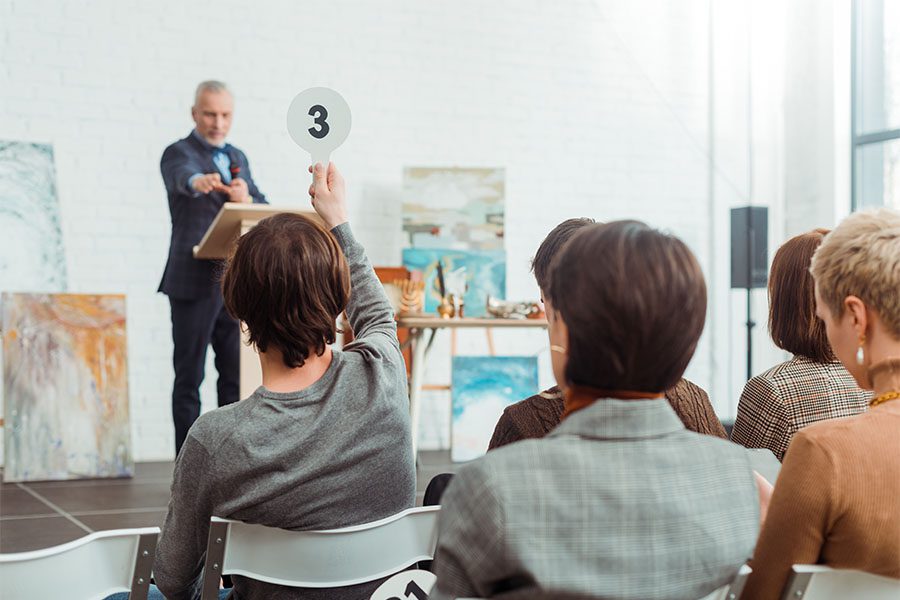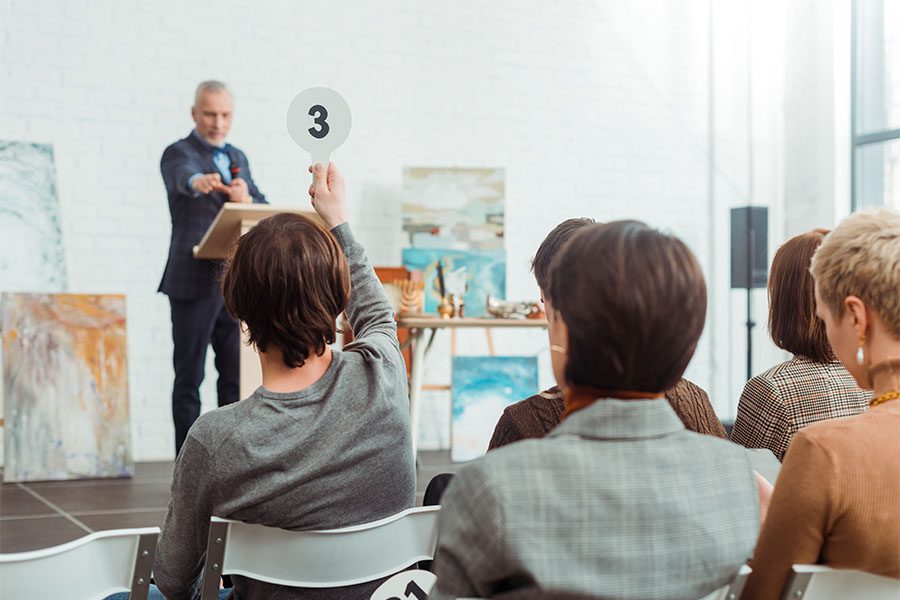 Get Started Today
As an independent agency, we are here to help you find the right Auctioneer Insurance coverage.
Request Information
  Auctioneer Insurance Information Request
As an independent agency, we are here to help you find the right coverage.
Request Information
It only takes a minute to get started.
Fill out the form, we'll be in touch.

Review options with an agent.

Get the coverage you need.
Would you rather discuss this in-person? Get in touch with an agent today!